UPS 2023 Contract Negotiations

Welcome to the official Teamsters Local 89 Campaign page for the 2023 UPS Contract. This page was launched on August 3rd, 2022, and will continue to be updated and added to throughout the campaign.
Despite days filled with long hours and intense negotiations, Local 89 and UPS remain far apart on several high-profile items such as shuttle compensation and full-time jobs. The Company has repeatedly and stubbornly shown themselves unwilling to make any meaningful movement on these issues. When challenged on this, UPS has often referenced the unknown overall impact of the Teamsters national economic demands as one reason for their inaction.
It seems clear UPS intends to hide behind the unknowns of national negotiations and use it as cover to make little or no significant progress on our remaining open items. Local 89 will not tolerate this insulting behavior, and we will not allow UPS, through their own inaction and subterfuge, to cause our rider negotiations to delay progress on pressing national issues that must be dealt with. As such, Local 89 and our rank-and-file bargaining committee fully support any efforts made by our International union to begin national discussions with UPS while we continue our fight here for the Louisville Air Rider.
The support we have received from our International leadership has given us the opportunity to take on UPS like never before, and we know that will remain the case until the battle is won. As we march forward together, Local 89 President Avral Thompson will continue to work closely with General President Sean O'Brien and General Secretary-Treasurer Fred Zuckerman. United in cause, we will continue fighting hard in Louisville until we win the air rider our members deserve at UPS Worldport, and a national contract that UPS Teamsters everywhere can be proud of.
In Solidarity,
The Teamsters Local 89 Louisville Air Rider Negotiating Committee
February 8, 2023 - Today the Teamsters Local 89 committee met with UPS to begin negotiations for the Louisville Air Rider, an agreement covering all members of Local 89 working at UPS Worldport. This session marks the official start of bargaining and follows a preliminary meeting two-weeks prior for the initial exchange of proposals.
As ever, we remain determined to fight for and win the contract our members deserve. We publicly call on UPS to reciprocate our members hard work, passion and dedication by giving them a contract they will be proud of. As this is just the first of many sessions to come, we are still very early in the process. Please be sure to follow us on our social media channels, and our website at
www.teamsters89.com/ups2023
to stay updated as negotiations continue. Thank you for your continued solidarity and remember to stand together in the days to come.
When one of us is still fighting, we are all still fighting. In Solidarity, The Teamsters Local 89 Louisville Air Rider Committee President Avral Thompson Secretary-Treasurer Jeff Cooper Vice President Brian Hamm Recording Secretary Craig Burns Trustee Vinny Rivera Business Agent Jay Dennis Business Agent Mike Rankin
Business Agent Ed Sageser
And Rank-and-File Union Stewards:
William Brody
Russell Bryant
Kim Calhoun-Rice
Glen Donlon
Karina Leros Gary
Todd Geralds
Tom Gordon Sr.
Scott Harwell
Adrianne "Neasy" Holmes-Jackson
Todd Kochert
Rich Lesher
Rich McCoun
Willy Rodgers
Joe Sexson
John Slater
Billy Watson
Alonzo "Yogi" White
Stacy Windhorst
For many years now, the Officers, Agents and Membership of Teamsters Local 89 have been at war with UPS. In 2013 and 2018 our members were forced to accept concessions against their will when their contracts were imposed on them. The word angry does not even begin to describe their emotions.
But much has changed since the 2018 UPS contract was imposed. New leadership at the International Brotherhood of Teamsters has brought a wave of reform throughout our union. Thanks to the new leadership of General President Sean O'Brien and General Secretary-Treasurer Fred Zuckerman, the Teamsters have been re-invigorated. We are once again at the forefront of militant unionism in America and our union is quickly becoming feared by employers across the country.
Teamsters Local 89 proudly stands with GP O'Brien and GST Zuckerman as they prepare to lead us in the coming fight against UPS. The days of concessionary contracts are gone, and in its place is a Teamsters union united and stronger than ever before. We are ready, willing, and prepared to fight.
As we draw ever closer to the expiration on July 31 of 2023, we have a very simple message for UPS.
It's time to pay up. Tick tock.
All dates are approximate.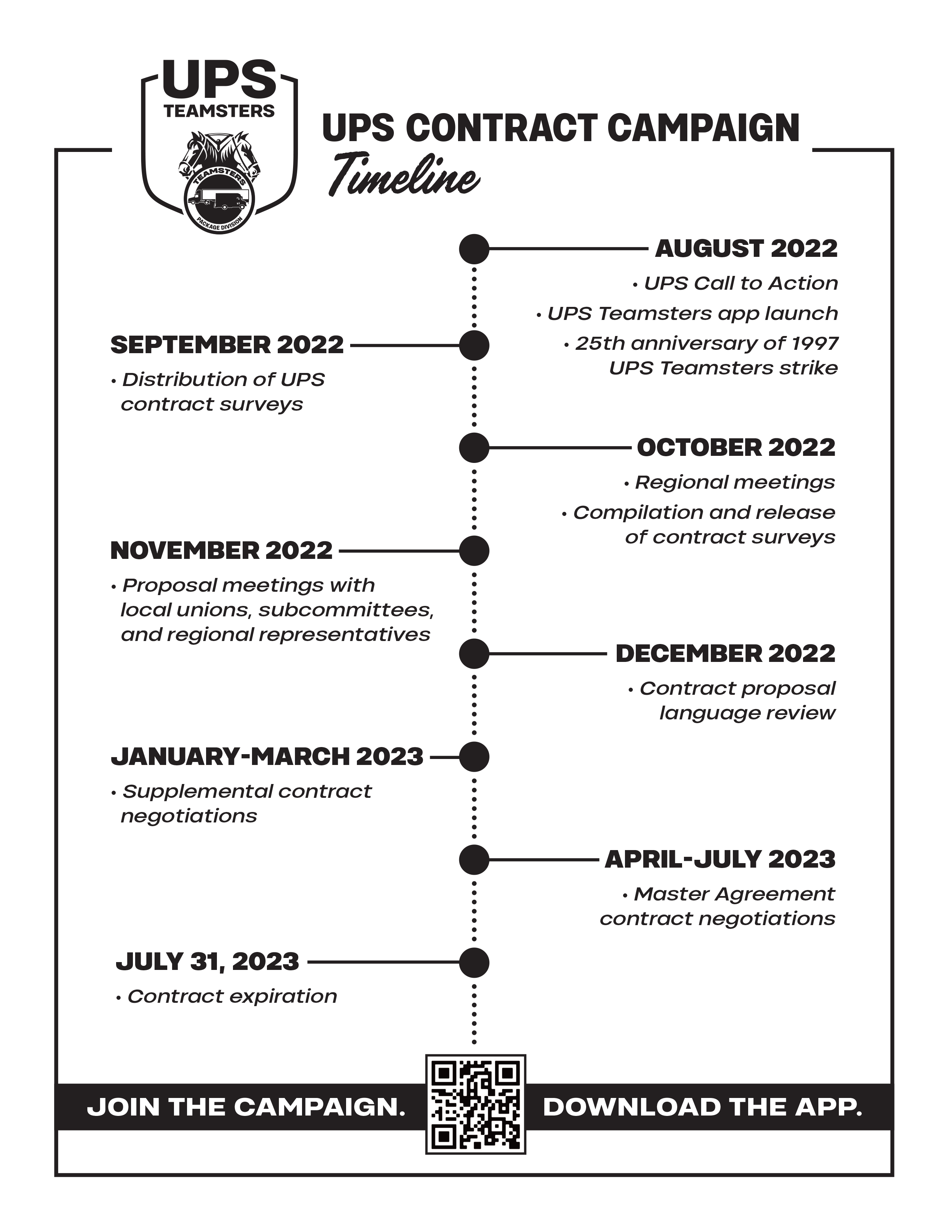 UPS Worldport Contract Proposal Meetings
Please be advised the following meetings have been scheduled for the purpose of contract proposals. If you can't attend the meeting scheduled for your area, feel free to attend one of the other meetings.
Monday, October 3, 2022
4:00 PM
Next Day Small Sort
7:00 PM
Second Day Small Sort
Tuesday, October 4, 2022
4:00 PM
Next Day Wings A, B, C, D, E
7:00 PM
Second Day Wings A, B, C, D, E
Wednesday, October 5, 2022
4:00 PM
Next Day Grade Lane, Building 1 (55k), Wing H and Grade Lane Shift
7:00 PM
Second Day Grade Lane, Building 1 (55k), Wing H
Thursday, October 6, 2022
4:00 PM
AMDC, Container Repair and GSE Non-Powered
7:00 PM
AMDC, Container Repair and GSE Non-Powered
Monday, October 10, 2022
4:00 PM
Next Day Ramps 6/9/11, Marshalling, Fueling and WFF (Cargo)
7:00 PM
Second Day Ramp, Marshalling, Fueling and WFF (Cargo)
Tuesday, October 11, 2022
4:00 PM
Next Day Cores and Pallet Yard
7:00 PM
Second Day Cores and International
PSC and any other unlisted area - Please attend the meeting for the area you report to.
---
August Actions
All times are approximate.
| | | |
| --- | --- | --- |
| Monday, August 8th 2022 | 9:00 AM | UPS Worldport Dayshift |
| | 9:30 PM | UPS Worldport Nightshift |
| | | |
| Tuesday, August 9th 2022 | 7:30 AM | UPS LCH - Front Guard Shack |
| | 8:00 AM | UPS Clarksville |
| | 4:30 PM | UPS LCH - Side Guard Shack |
| | | |
| Wednesday, August 10th 2022 | 7:30 AM | UPS LCH - Side Guard Shack |
| | 8:00 AM | UPS Bluegrass |
| | | |
| Thursday, August 11th 2022 | 7:30 AM Central | UPS Bowling Green |
| | | |
| Friday, August 12th 2022 | 7:30 AM | UPS Campbellsville |
Page Last Updated: May 09, 2023 (07:39:00)