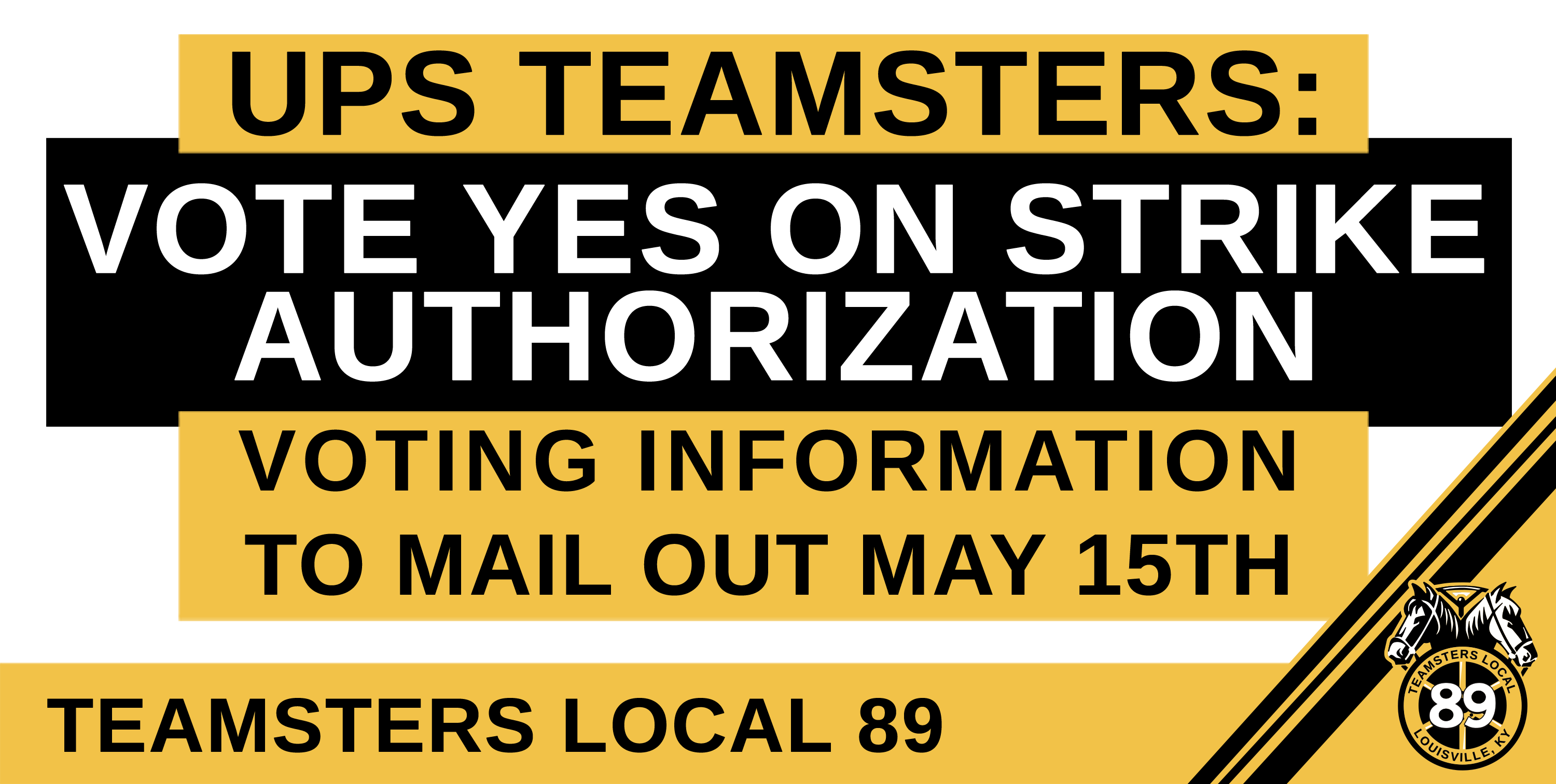 What is a strike authorization?
A strike authorization is a common tool that unions use prior to or during contract negotiations in order to put added pressure on the Company to agree to a fair contract.
Does this mean we are going on strike?
A strike authorization vote does not mean that a strike is imminent, only that we are letting the Company know that our members are willing to strike if they don't take negotiations seriously. If an actual strike were to occur, it would be on August 1st at the earliest.
Does this mean negotiations are over?
Negotiations are still in progress on the National, Regional, and Local levels across the entire country. Negotiations will continue during and after this strike authorization process.
You will not be voting to strike immediately, you will be voting to authorize a strike that would only take place on August 1st at the earliest, and only if an agreement cannot be reached between the IBT and the Company by that time (and the two parties do not agree to a temporary extension to continue talks), or an agreement is reached but is rejected by the membership on a national scale.
This strike authorization is primarily used as a tool to show the Company that members are prepared to strike if necessary in order to compel them to agree to a fair contract prior to the July 31st expiration. This is a common process used in many national and local contract negotiations in order to put the Company on notice.
Will I get to vote on the contract before a strike, if one were to take place?
At the moment, there is no contract to vote on. Negotiations have not concluded anywhere in the country, but progress is slowly being made and the current contract does not expire until July 31st, which is still over two months away.
The only way a strike could occur without first voting on a contract is if negotiations went past the July 31st deadline without the IBT and the Company either reaching a tentative agreement, or without the Company making a "Final" offer.
It is also possible the IBT and the Company could agree to an extension past August 1st if they felt talks were proceeding well but they needed more time to come to a Tentative Agreement.

As the Company certainly does not want a strike, they would likely reach a Tentative Agreement with the IBT or send out a "Final" offer before the deadline. Either way, that language would then be sent to the membership for a vote.

The decision to strike or not strike is always up to the membership, not the IBT. This strike authorization vote is merely a step the IBT is taking prior to the eventual contract vote in order to put additional pressure on the Company.
When and how will I vote?
The IBT will begin mailing out packets with voting information for this strike authorization on or about May 15th. You will likely receive your packet in the mail within a week of that date. Your packet will be mailed to the address you have on file with your Local Union. It is VERY important that you make sure your current address is on file. UPS does NOT share updated member addresses with us, so if you have moved you must inform us of your change of address to make sure you receive a voting information packet.
Once you have your packet, it will contain information about the voting process which will be done online via any computer or mobile device. Your packet will contain a unique pin code which is what you will use to cast your vote online.
Should I vote yes to authorize a strike?
Absolutely!
Strikes are very serious issues that require careful preparation and planning. Strikes are often used as a last resort, and Teamsters Local 89 does not take them lightly.
That said, UPS must know that we are ready and willing to strike in order to give us the upper hand in bargaining. If the Company knows that their workers are unwilling to go on strike then they will hold all the cards. At best they will ignore any serious issues, and at worst they will put extremely pro-company proposals into a "Final" offer and say they are done negotiating.
Local 89 fully expects this strike authorization to pass, the only question is how much it passes by. The higher the number, the stronger our hand becomes at the negotiating table.
Show UPS that you demand a fair contract. Vote YES on the UPS strike authorization!