Political and Legislative Action Department
Click here and register online to vote in Kentucky elections!
---
Learn more about Teamsters D.R.I.V.E!
---
"Right-to-Work" is WRONG for Kentucky - Click here to read about the deceptively named "Right-to-Work" legislation, and why it's WRONG for Kentucky workers!
---
Previous Political Endorsements
---
2019 Political Endorsements
Andy Beshear - GOVERNOR Jacqueline Coleman - Lt Governor Greg Stumbo - Attorney General Heather French Henry - Secretary of State Sheri Donahue - State Auditor Michael Bowman - State Treasurer Robert Haley Conway - Agriculture Commissioner Becky Miller - House District 18 Josh Blair - House District 63 Jacqueline Caldwell - Kentucky Court of Appeals 3rd Division

Joint Council 94 Endorses Andy Beshear for Governor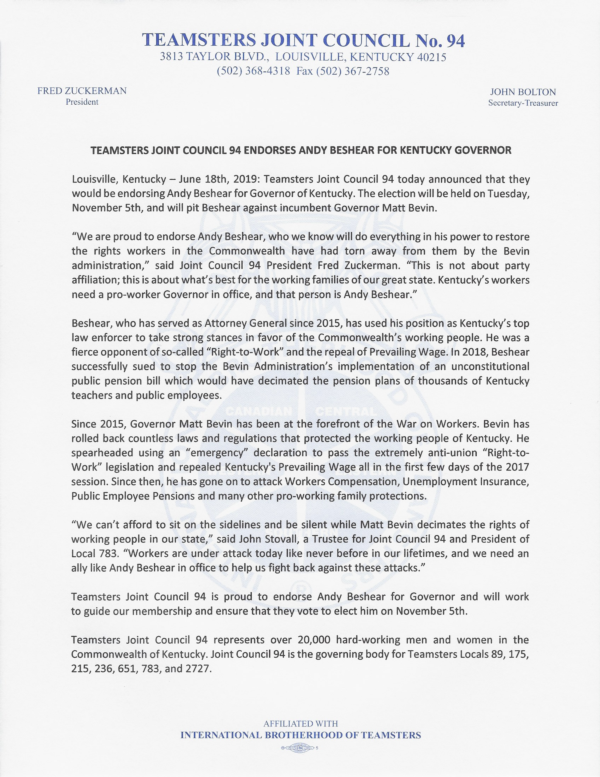 TEAMSTERS JOINT COUNCIL 94 ENDORSES ANDY BESHEAR FOR KENTUCKY GOVERNOR Louisville, Kentucky – June 18th, 2019: Teamsters Joint Council 94 today announced that they would be endorsing Andy Beshear for Governor of Kentucky. The election will be held on Tuesday, November 5th, and will pit Beshear against incumbent Governor Matt Bevin.

2019 Political Primary Endorsements
Please vote on Tuesday, May 21st for Labor endorsed candidates in the Kentucky primary election! Teamsters Local 89 Endorsement List for 2019 Kentucky Primary: Governor - Andy Beshear Lt.

Teamsters 89 Endorses James DeWeese for KY HD50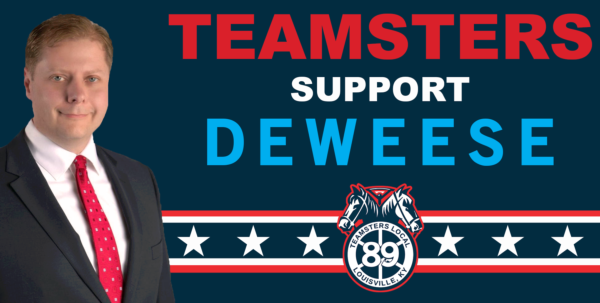 Sep 07, 2016 - The hard-working Teamsters men and women in Nelson County have had a long line of politicians elected in their area who care nothing about the plight of working people. It is past time for these Teamsters to have an elected representative who understands and cares about them.

Teamsters 89 Endorses McKenzie Cantrell for KY HD38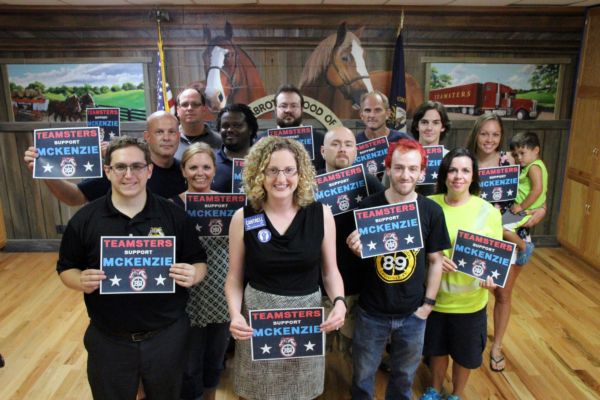 Aug 10, 2016 - Given the challenges facing working people and their unions in Kentucky today, it is imperative that strong, pro-labor candidates like McKenzie Cantrell are elected and sent to Frankfort to defend us from out of state interests seeking to tear us down.

Page Last Updated: Nov 07, 2022 (10:31:00)